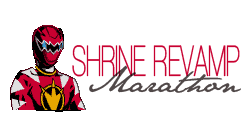 SIGNUP: December 21, 2009 to January 9, 2010
DUE BY: December 31, 2010

New years are all about resolutions and change. People make goals to better their lives in the new year so that they can be happier than they were in the year before. In spirit of the new year coming upon us, we've decided to apply this practice to our sites.

So often, people jump from new site to new site. So much emphasis is put on new sites these days. What about our old ones that sit there untouched? We think it's time to put some emphasis on those.

Let's make resolutions to fix up those old sites!

From now until midnight, January 1st, you can sign up to participate in this marathon. Try to be as specific as possible when making your resolutions for these sites. Starting January 1st, you will have until the Chinese New Year, February 14th all year to make your site a new layout and implement your resolutions. Please wait until January 1st to begin your revamp. (Work on your Girl Mode shrine until then!)


RULES

Your shrine must already be online. This is about challenging yourself to make a shrine you own better, not creating a new one.

Think about your resolutions before you make them. At the end, your shrine will be looked at with the resolutions you made to see if you succeeded.

A new layout for your shrine is required to show off your new and/or rewritten content.

A new layout cannot be all you do. New or rewritten content is a must.


NOTES + FAQ

We would prefer that everyone spend their time working on just one shrine for this marathon, but if you want and think you can do more, e-mail Masao or myself. We will make exceptions for people who have a good history with finishing Amassment events. Since the event has been extended to the entire year, feel free to sign up as many sites as you think you can revamp in 2010.

On that same note, plan to finish if you sign up. We will understand if something comes up if you tell us about it, but communication is key. You will have a little over a month full year to work on a shrine you already have up, so just letting the deadline go by with no shrine and no contact is wrong.

Must I do a full revamp?
That's up to you. Changes to content and a new layout have to be made, but how much you decide to do is completely your decision. When you make your resolutions you can opt to simply write those three pages that have been upcoming the past year, bring your site up to date if a new season or volume has come out, or rewrite the entire shrine.

Can I use this marathon to expand my one page tribute into a bigger shrine?
Absolutely! A lot of the one pagers online were created in an event at Amassment. It will be neat to see them evolve through Amassment too.

I want to enter the marathon, but I'm very happy with my current layout. Can I sign up to do just a content revamp?
We don't prefer it, but if you specify to us in your sign-up that you are happy with your current layout and won't be changing it, you can just do a content revamp. Those that don't specify in their sign-ups will be expected to make new layouts. :)




SIGNING UP

To sign up, fill in the form below and post it as a reply to this post. Masao or I will comment once you've been approved. If your resolutions aren't specific enough, we may ask questions to get a better idea of what you're doing. Your resolutions will remain screened until January 1st at which point they will be unscreened so that everyone can see the pledge you made for your shrine. The mods' resolutions are already unscreened so you can see kind of what we're looking for. SIGN-UPS ARE NOW CLOSED.



Please plug your revamps here at the community when you are done, or submit them to us at the directory. They will be linked in a special place on the events page as they come in. You can plug them as soon as they're done. No need to wait until December 31st.